1st Part
On May 12, 2023 – To properly inaugurate the long-day celebration, a Thanksgiving Mass was held in the lobby of PRRI Office, Sanito, DA Research Complex, Ipil Zamboanga Sibugay attended by the Executive Director, Dr. Cheryl Lazaga Eusala and the rest of the PRRI family. Reverend Father Marc Anthony Vaguchay, a parish priest delivered a homily during the first part of the Philippine Rubber Research Institute's (PRRI) 13th Anniversary Celebration with theme: "Overcoming Challenges, Advancing Technologies, and Building Opportunities for the Rising Rubber Industry."
In his homily, Father Vaguchay congratulated PRRI on its 13th anniversary and praised the institute's work in promoting the Philippine rubber industry. He explained that we all face challenges in our lives. These challenges can be physical, emotional, or spiritual but we can overcome these challenges through perseverance, hard work, and innovation. Just like the rubber industry, we can advance our technologies through education, research, and development. We can build opportunities for ourselves and for others through hard work, dedication, and compassion. He ended by saying that the rubber industry is a symbol of hope and resilience.
During the finale of the mass celebration, OIC-Chief of Admin and Finance (AFD), Mr. Glenn Andalahao expressed his appreciation to Father Vaguchay for celebrating the mass. Further, he announced that the second part of the celebration, which will be attended by the honorable Provincial Governor and all other invited guests and rubber stakeholders, shall continue in Jackies' Cuisine at 2:00PM.
Overall, the first of the celebration was truly a reminder that challenges are but temporary. It is through love and faith in one another that as an organization, we become more resilient and we are able rise towards making a difference in the world.
-𝕵𝖚𝖑𝖘𝖟 𝕭𝖎𝖔𝖑𝖆𝖓𝖌𝖔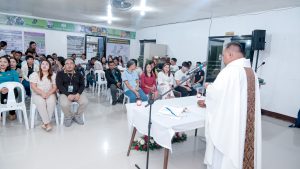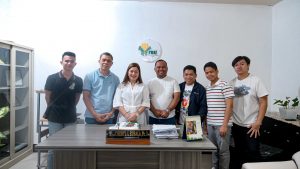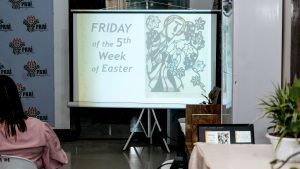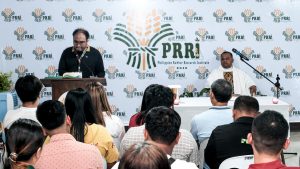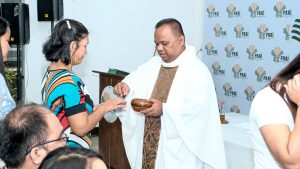 2nd Part
May 15, 2023 @ 2:00PM – The Philippine Rubber Research Institute (PRRI) is proud to have reached another milestone – its 13 years founding anniversary as a staff bureau of the Department of Agriculture (DA). To give a short backgrounder, PRRI was signed into law on May 13, 2010, and it was 2015 that the office started to operate under the management of DA-RFOIX. Fastrack to 2018, when PRRI became independent and regular plantilla positions were filled. Now through Dr. Cheryl Lazaga Eusala, the first, full-fledged Executive Director III, PRRI has celebrated this momentous affair with flying colors.
Dr. Jill Villanueva, the Project Leader of DOST-PCAARRD funded Project – AI Rubber Clinic, presented the latest updates on Pestaloptiopsis Leaf Fall Disease (PLFD) of Rubber. She explained that PRRI is working on a number of initiatives to address the disease, including: developing new and more effective PLFD control methods, providing extension services to rubber farmers on how to prevent and control PLFD. She also said that PRRI is working with other stakeholders, such as the Department of Agriculture, PLGUs and LGUs, SUCs and other research institutions, to better address the problem.
In her speech, Director Eusala spoke about the challenges facing the Philippine rubber industry, the importance of advancing technologies, and the opportunities for the industry to rise. Furthermore, she stated that there are many reasons to celebrate because PRRI has achieved many successes. As a matter of fact, PRRI already has an approved budget of 126 million which is a 186% increase of the current budget, signifying support towards the policy shift on Improved Technology in Rubber Production. She also thanked the Department of Agriculture for the much-needed assistance. Regarding the Pestalotiopsis Disease, she remains positive and hopeful that PRRI will be able to effectively eradicate the disease. Moreover, she's happy that LGUs are establishing quarantine posts and applying biosafety measures. To end her speech, she asserted PRRI's bright future, "We are building a future here. But there is no other mandate than to make it brighter!"
Gracing the occasion is no less than the author herself, Honorable Governor Dulce Ann K. Hofer was the guest speaker for the event, making this celebration a special one.. She recalled how PRRI as an infant struggled to exist. She considered PRRI as one of her huge accomplishments and personal fulfillment. She reiterated her foremost motivation for PRRI– that Zamboanga Sibugay will remain the rubber capital of the Philippines with state-of-the-art rubber institute located in the area. She furthered that with Director Eusala now on board, the hopes are high. She is hopeful that in her administration, she will address technology and policy gaps, ensuring standard in production, meeting the demands of both domestic and international markets and generate livelihood for the well-being of the rubber farmers. The esteemed Lady Governor received ovation when she mentioned that we should improve the rubber and the lives of the rubber farmers during her term. She continued talking about low productivity, although she promised to act on this during her watch. She ended by congratulating PRRI and saying well swishes for the institution.
The final part of program culminated with the signing of the Pesta Covenant. The covenant is a commitment to work together to combat the devastating Pestalotiopsis Leaf Fall Disease of Rubber, which is threatening the Philippine rubber industry. It was signed by representatives from the Department of Agriculture, Department of Agrarian Reform, Department of Science and Technology, Department of Trade and Industry, Bureau of Plant Quarantine, Landbank, LGU-Titay, Rubber Farmers Cooperatives and Associations and other rubber stakeholders. "This is a historic day for the Philippine rubber industry," said Director Cheryl Eusala of PRRI. "By signing this covenant, we are sending a strong message that we are united in our fight against Pestalotiopsis Leaf Fall Disease. We are committed to working together to find a solution to this devastating disease and protect the Philippine rubber industry."

– 𝙅𝙪𝙡𝙞𝙪𝙨 𝘽𝙞𝙤𝙡𝙖𝙣𝙜𝙤