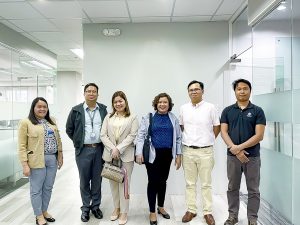 On May 23, 2023, a momentous exploratory meeting took place between the Philippine Rubber Research Institute (PRRI) and the Philippine Space Agency (PhilSA) at the PhilSA office in Quezon City. The meeting brought together key representatives, including PRRI Executive Director Cheryl Eusala, Training Specialist IV Evangeline Garcia, Chief Liaison Officer Ms. Gemma Labayo, and PhilSA Director IV of the Space Information Infrastructure Bureau, Dr. Ariel C. Blanco, along with other officials. The primary focus of the discussion revolved around modernization, digitalization, and the utilization of space technology to establish PRRI's Rubber Database System.
The meeting commenced with an introductory session, as the two agencies were engaging with each other for the first time. This opportunity for collaboration arose from the connection established between Engr. Evangeline Garcia from PRRI and Mr. Rocell Vicente from PhilSA during a Leadership and Management Development Course conducted by the Civil Service Commission. Recognizing the potential for collaboration, they set the stage for this transformative meeting.
During the discussions, PhilSA officials shed light on their successful collaborations with other agencies in mapping plantation crops such as banana, coconut, and rubber plantations in Mindanao. They also highlighted their expertise in mapping the extent of damage caused by floods and other climatic factors, as well as monitoring plant growth and various indicators using remote sensing, artificial intelligence, and other space-aided technologies.
PRRI's Executive Director, Cheryl Eusala, acknowledged the significant potential for PhilSA's support in intensifying the government's surveillance and monitoring strategies concerning the pressing crisis of Pestalotiopsis Leaf Fall Disease (PLFD), which has been plaguing the rubber industry. The collaboration between PRRI and PhilSA represents a game-changing move that will expedite and enhance monitoring and surveillance efforts. By leveraging space technology, the government will be empowered to provide area-specific and need-specific solutions to combat PLFD.
It is crucial to recognize the devastating impact of PLFD, a fungal disease that triggers leaf defoliation and results in substantial yield losses of up to 90 percent in severely affected plantations. These losses have wide-ranging consequences, impacting the income of farmers and households heavily reliant on the rubber industry, as well as posing a threat to economic opportunities within local communities and the entire nation. Given the magnitude of this predicament, the Philippine Rubber Research Institute, acknowledging its current resource limitations, has actively sought to strengthen collaborations with other government agencies, including PhilSA.
Thanks to the proactive and positive actions of PhilSA officials, led by Director General Joel Joseph S. Marciano Jr., a verbal agreement was swiftly reached to initiate the mapping of Basilan Province, one of the regions severely affected by PLFD. Furthermore, to solidify the collaborative efforts, both agencies are actively working towards entering into a memorandum of agreement in the near future.